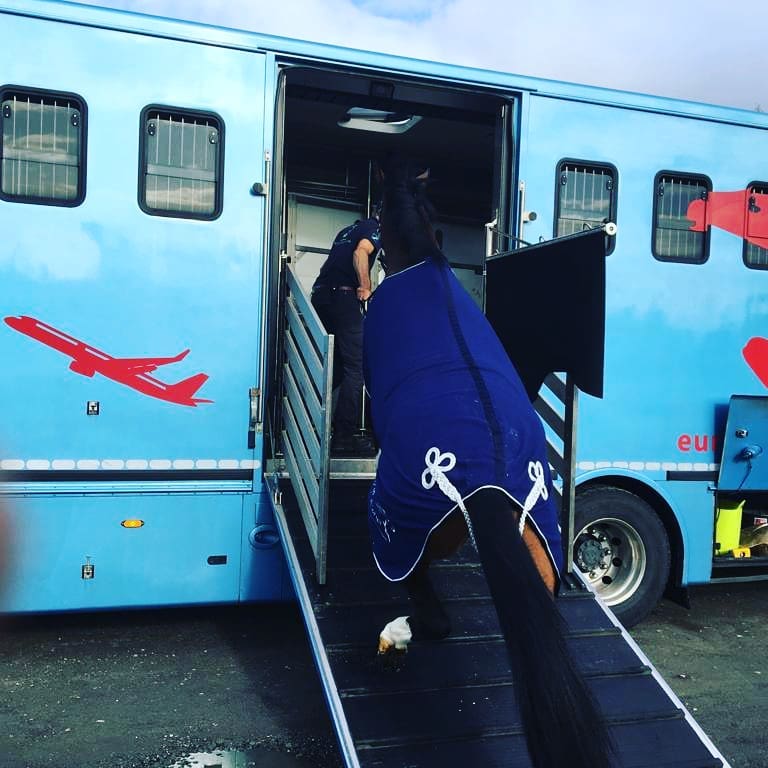 WinHorses is experienced in transporting horses all over the world. To make this possible we work closely with several transport companies.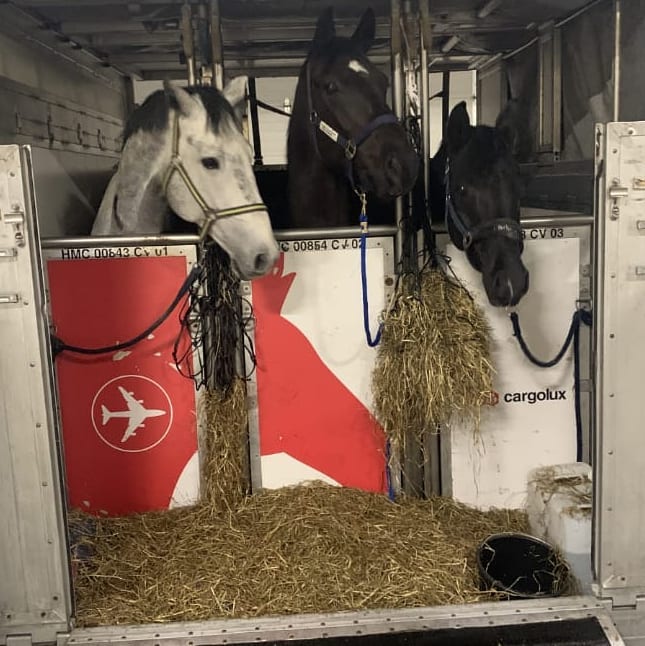 Some Frequently Asked Questions:
Who arranges shipping?
We prefer to make an all-in price for the horse. This way we avoid unexpected costs for the buyer. Once the total price is agreed on, it won't change, which is a guarantee for both parties. This price includes everything: blood work, paper work, transport to the airport, flight and quarantine. If required, the horse can be delivered at home too.
The horse is being picked up 1/2 days before the flight, because the government vet needs to be able to set up transport documents, and check the horse's health for the last time before departure. Our horses travel with their own, personal luggage! At any time, the horses are being watched very closely. They are being lunged, hand walked,… and even get a final shower a few hours before departure. 
For some destinations pre-quarantine is required (for example: China, Australia,…), in this case the horse needs to stay in quarantine a little longer before its departure. 
How does the whole shipping proces work?
Horses usually travel in boxes of 3 horses. They are able to watch their four-legged friends at any time, which makes them feel more comfortable and at ease. The flight is more comfortable for a horse than a long trip with a truck, on which they have to keep their balance all the time. The customer receives a link, via which he can follow the horse at any time during the flight. We try to provide as many pics and videos as possible, as we know how exciting it is!
Immediately after the landing, horses are being checked by the responsible veterinarian and brought to the quarantine facility. The length of their stay here also depends on the destination (for the USA this means 2-3 days for a gelding, 2-3 weeks for a mare).
Does the horse need to rest after its arrival?
The whole shipping process can indeed make the horses tired and sometimes a little stiff. Best way to handle this is to give them a few days to settle. We highly advise to take them out and lunge/walk/put them in the field during these days. This is the best way to get to know each other, and to loosen the muscles.
How can you be sure I will be able to ride the horse?
Customer satisfaction is our main priority and the fundament of our business. By asking a lot of questions, phone calls,… we try to get a better view of the expectations and the way of riding of the customer. With this total image in mind, we start to look for the best match. Quality always comes before quantity for us. 
This question is also the reason why we mostly sell horses under the age of 7. We train them in a very uncomplicated way, which makes the transition to a new rider much smoother. We also make sure the horses are used to be trained by different riders of all levels, even by children. 
In the end, your smile is why we do it. If we believe a horse isn't ready to go to a new owner yet, it will stay with us for further training.
Follow us on facebook and instagram